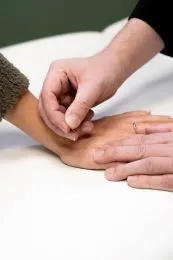 Acupuncture
Acupuncture is a method that promotes natural healing and improved body function. This is done by inserting small needles at precise locations on your body called acupuncture points. Acupuncture can treat:
Digestive disorders: gastritis, hyper acidity, spastic colon, diarrhea, constipation.
Respiratory disorders: sinusitis, sore throat, bronchitis, asthma.
Neurological and muscular disorders.: headaches, facial tics, neck pain, rib neuritis, frozen shoulder, tennis elbow, tendinitis, low back pain, sciatica.
Female disorders: urinary, menstrual, reproductive.
Tension, stress, emotional conditions.
Acupressure
An acupressure chiropractor uses a combination of treatments to help aide in orthopedic patient recovery. This combines two different types of medicinal practices. The eastern and western practices are combined into service to give a patient optimal benefits.
Acupressure is used to treat pains and many other types of soft tissue problems while chiropractic service uses forceful or gentle touch to help manipulate and correct an out-of-balance structure through the body. When both types of practices are applied, the benefits are experienced in a timelier manner.
Definition of Acupressure
An acupressure chiropractor, combines both acupressure and chiropractic measures. Acupressure is based on an oriental philosophy. They believe better health is achieved by carefully applied force to specific areas - Qi. This is the energy that flows through people. In acupressure, blocked joints are opened through massage and massage takes place with either hand or finger pressure rather than needles. The needles are the traditional form called acupuncture. There are also different forms of acupressure.
Chiropractic uses forceful or gentle touch, and sometimes a combination of both. The movement technique is meant to correct spinal imbalances. When the spine is not aligned, pressure on the spinal cord can happen. This can have a domino effect throughout the body. A Chiropractor maintains balance in the body so it will function correctly. This helps with pain found in certain areas of the body and corrects certain situations. This is a big part of acupressure chiropractor.
Are There Similarities Between Acupressure and Chiropractic Service?
With acupressure, the combination both work with back pain. Acupressure works to alleviate the pain and chiropractor works to maintain a balance in the spine. When people wait too long, and the spine has caused several problems, an acupressure chiropractor is a better benefit. The acupressure will help to alleviate the pain caused; while the chiropractic will work at maintaining a balance in the spine.
Both areas help to deal with pain. So combining both with acupressure chiropractor together will get you the best of both worlds. If you have a problem with the spine, and particularly if you have had it for a long time, you will want to go to an acupressure chiropractor. These doctors can help with more than one problem at a time. They go hand in hand together. Complimenting each other with the areas, they help with.
You will enjoy the benefits of the acupressure chiropractor you go to see. With both combinations, you should see a difference in the pain area quickly, and essentially enjoy the happiness of more comfort by going to an acupressure chiropractor. These doctors are well versed in both forms of massage and gone are the days when you have to use needles.
Article Source: http://www.wellnessarticles.net

Alexander Thomas is a respected author and contributor to USChiropractor.org - (www.uschiropractor.org.com), a leading authority and resource directory for information on Chiropractors on the internet.